POWDER KING® PKA-18 FULL SCALE LAB MILL
POWDER KING® PKA-18 FULL SCALE LAB MILL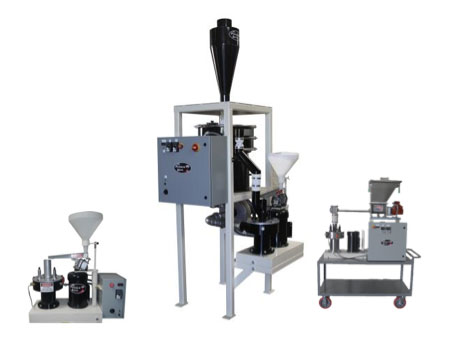 Powder King® has been building their PKA-18 bench top lab pulverizing system since 2005. This system has won them a runner-up award in Powder and Bulk Engineering Magazine for laboratory equipment of the year. The lab mill has been very popular with resin companies, compounders, universities, and rotomolders throughout the world for pulverizing test batches of resins and compounds. The PKA-18 was built specifically for small sample pulverizing for rotational molders and compounders to test small samples that it would not be possible to do at a reasonable cost on large full scale production pulverizing system. The PKA-18 will pulverize samples as small as 1 pound to 100's of pounds if desired. The cleaning is fast and easy so many samples can be pulverized in a short period of time.
The demand has grown for a full scale system to do everything a production model can do, meaning screening the particle sizes with sifter for selected mesh the client is looking to achieve on the final powder particle size and distribution. The full scale system has all the capabilities of full production pulverizing system and at a much lower price of the production sized pulverizer. The PKA-18 full scale system is easy to clean and will pulverize many different polymers. The system has been designed to accept the bench top PKA-18 should the client want to upgrade to the full scale model from their current PKA-18 benchtop model.
Powder King® also has developed their PKA-18 Cryogenic lab pulverizing system as well for the pulverizing of very heat sensitive resins. The cryogenic pulverizer is exclusively for small runs of heat sensitive resins to reduce cost of large runs in production models that can be very expensive to produce in larger full scale cryogenic pulverizing system.
"We are listening to what the industry is looking for," states Jim Hummel President and Owner of Powder King®, LLC "and are continually expanding our capabilities and the Powder King® line of pulverizing systems. Please feel free to contact us at Powder King® or visit our web-site: www.powder-king.com. We would be happy to assist you or provide any information you may require on the line of Powder King® pulverizing systems and services."