Activities Week Confirms RPC's Commitment to Health and Safety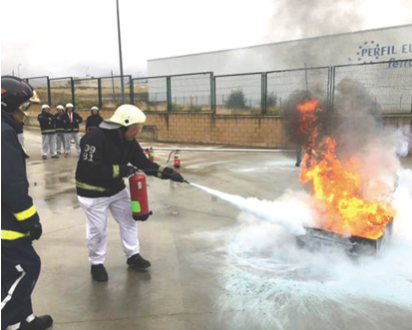 LONDON, UK — Plastics specialist RPC Group had held a special week of events and activities in its ongoing commitment to an ever-improving health and safety record. Employees in over 150 locations around the world took part in training sessions, guest presentations, and fun activities as part of the company's annual Safety Week, aimed at further raising health and safety standards both inside and outside the organisation.
Highlights included firefighting tutorials, first-aid training, and hazard-spotting exercises, as well as fun tasks for RPC employees and their families such as crosswords, jigsaws, and drawing competitions for children.
Staff also benefited from tips and support on enhancing their personal health and safety, with different sites offering physical examinations, blood tests, stress tests, flu vaccinations, massages, healthy eating tips, tai chi lessons, help with quitting smoking, and road safety tutorials.
As well as these activities, several sites marked the week with notable developments and achievements. Among these were RPC Promens Industrial Ettlingen in Germany, which celebrated 671 days without a reportable accident, and RPC Strata Products, which completed construction on a safe new walkway through its facility.
There were also some creative interpretations of the safety theme. RPC Bramlage South Monastir in Tunisia marked the end of the week with a party where everyone undertook some communal exercise.
And RPC BPI Recycled Products Stroud played a game of 'Where's Winder?' in which employees were encouraged to enhance their awareness of their surroundings by searching for cut-outs of Health and Safety Manager Daryl Winder in various locations on site. "It's always wonderful to see the inventive ways our sites embrace Safety Week and show their commitment to improving health and safety standards both within RPC and their own lives," comments Michael Stegeman, RPC Bebo CEO and Health & Safety Coordinator of the RPC Group. "I'd like to congratulate everyone involved for making this year's event such a success."
"Safety Week – despite the name – can be terrific fun, but the important thing is that its lessons are taken to heart and applied every single day. Above all, we must avoid complacency, as that's when mistakes can creep in. The great progress we continue to make only inspires us to keep learning and further improving, of which Safety Week plays an important part of this," said Stegeman.
For more information contact RPC Design, Tel: +44 (0) 1933 414855, E-Mail: b.lodge@rpc-design.co.uk, Website: www.rpc-group.com