DRAM srl Italy: 20 Years and Growing Strong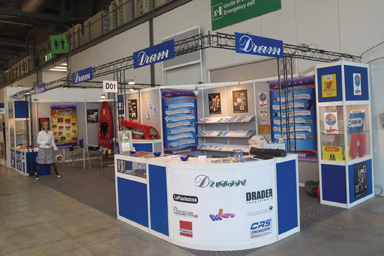 Dram srl in Italy is extremely proud to celebrate their 20th Anniversary this year. Dram is a very successful and rather unique "all girl" company operating within the gruff, male dominated rotational moulding industry – and one that provides an extensive and unique range of services and solutions to rotomoulders across Europe.
Where did it all start, more than 20 years ago? Alison McKeand, born in Scotland, moved to Milan, Italy in her early 20s, and after various jobs including teaching English, she ended up working for a company selling raw materials and release agents to the rotomoulding industry. Alison was fascinated by what she learned about the industry, and the people she worked with. She decided it was time to stop working for others and head off on her own. Alison approached Ferry Industries and offered to sell their rotomoulding machines in Italy. Shortly thereafter, she took on selling the Rotolog on behalf of the Plastics Development Centre (PDC) in Northern Ireland. The Rotolog was a major breakthrough in the rotational moulding industry and provided a time vs. temperature profile to indicate when a part in the mould has obtained its optimum physical properties.
In 1992, Ferry Industries, the PDC, and Mold In Graphic Systems® (MIGS®) shared a booth at the "K Show" in Dusseldorf, and Alison was introduced to the owner of Mold In Graphics®, Mike Stevenson. This resulted in MIGS®'s permanent Mold In Graphics® being added to her portfolio of products, and the idea to become a full-blown service provider to the rotomoulding industry was born. Dram srl was the result and over the years many more products have been added to the range.
The name Dram was created from the names of the three principal individuals who funded and supported Dram during its early years – Douglas Muir, Roberto Muti, and Alison McKeand. Also, thanks to her Scottish origins, the name Dram fitted rather well – a Scottish Gaelic word with the literal meaning of a 'drink', but usually associated with fine Scotch whisky.
Alison and Dram continued to sell products on a commission only basis until 1995 when she took on Drader's Injectiweld welding system. The Drader Injectiweld welding gun uses a combination of hot tip and welding rod injection to produce high quality welds. Heat from the welding tip pre-plasticises the welding surface of the thermoplastic. Molten plastic is immediately injected under pressure below the surface into the weld area to fuse the plastic together and form a sound, extremely strong weld. Today Dram provides full technical support for Drader's welders, including servicing and repairs.
As MIGS® expanded their unique range of enhancement products for rotational moulding, so Dram's product offering grew. Particularly noteworthy amongst these are Surface Enhancer® 360 and RMC3®. Surface Enhancer® 360 creates better flow to all areas of the mould, removing ugly pinholes, voids, and blowouts. As a result, product quality is improved and scrap rates are reduced. RMC3® is a unique rotational moulding compound giving moulders and designers an enormous amount of flexibility, allowing them to create unique, solid features on their parts. Other products include Patch 'N Go® for cosmetic repairs to damaged PE parts, Parting Line Sealer® to stop powder leaks, and prevent blowholes forming along the parting line. MIGS®Color In Systems®, like Mold In Graphics®, embeds itself directly into the resin surface resulting in completely permanent custom designs.
Until 2003, Dram focused exclusively on the Italian rotomolding industry. However with the addition of La Plastecnica NZ's Supavents to their product range, Dram expanded to become a European wide supplier to the industry. La Plastecnica, through Dram, supplies a highly innovative range of venting systems – helping to eliminate blowholes, porosity, and warpage. Best known of these is the Supavent, made of a heat-resistant flexible polymer designed to create a one-way vent. Supavent allows air to go into the mould but does not allow it to escape. This gives better, more consistent mouldings, speeds up the sintering process, and reduces cycle times. It also helps reduce porosity and improves surface finish.
Other products in Dram's range include release agents from Wiz® Italy, heat pipes from CRS Engineering Ltd in the UK, chemical foam blowing agents from Tramaco Germany, and Powercore, a plastic welding system from Powercore International Ltd in Canada. Powercore is an electrofusion system used for joining all types of thermoplastic parts together. One of its unique features is the ability to weld very large objects in the same time it would take to weld small objects. If a 10 cm sheet weld takes two minutes, a 10 m sheet weld will also take 2 minutes.
Alison worked on her own at Dram for the first 13 years of the company's existence. She reflects that life was a lot simpler back then, allowing her to sneak off from time to time, to indulge in her passion, riding. However, the company's success resulted in the need to employ more people and today Dram has four full time employees. Katia Zoppetti, who was previously with one of Italy's leading technical rotomoulders, is Dram's Technical Manager and was also recently appointed as President of Italy's new rotomoulding association, IT-RO.
Dram seeks to add value for both their customers and their suppliers. For customers, their aim is to help produce better products and reduce their scrap rates. For suppliers, they take care of all logistics, EU hazmat issues, and conformance to local regulations and legislation. Technical support is provided on behalf of the supplier principal, as well as supply of samples, application instructions, MSDSs, and safety labelling in the language of the customer. It is interesting to see Dram at work at trade fairs, such as ARMO, K Shows, or the Plast Shows in Milan. There is always a steady queue of moulders, seeking advice and help for their moulding problems. In fact, not just moulders, but many friends and industry colleagues from the rather unique and special world of rotomoulding. It is not just about the products they supply, but the wealth of knowledge and experience they have accumulated over the years.
For more information on Dram's solutions for rotational moulding, please take a look at www.dramsrl.com.