Ferry Industries
---
---
Company Articles
---
FERRY INDUSTRIES – NEXT PHASE GROWTH!
Ferry Industries Inc., Stow, Ohio.

2015 is a watershed year for Ferry Industries.
The year started with the sale of Ferry Industries, Inc. to Madison Industries, a Chicago based holding company. Ferry is a leading producer of rotational molding machines with installations in nearly 60 countries and sales of more than 1,000 machines. Ferry also produces Femco band-saws for structural honeycomb and flexible foam and its Quintax CNC Machining Centers for plastics, composites, and non-ferrous metals.
Harry Covington, president and owner of Ferry Industries for the past 33 years, continues as president and an owner. Ferry is the first company in Madison's newly formed Madison Industrial Solutions group. Madison intends to grow this group by adding complementary companies and products.
"From the day I purchased a machine from Harry some 20 years ago, I told him to call me when he is ready to have a partner. When Harry and I spoke a few months ago, I knew we had a very bright future ahead of us," said Larry Gies, President and CEO of Madison Industries. "We are so pleased to have Ferry Industries join our growing family of companies," he added.
Madison specializes in buying branded leaders in partnership with management. Madison Industries is one of the largest and most successful privately held companies in North America. Founded in 1994, Madison, builds businesses in order to own them forever; investing in the best people, technologies and strategies to grow truly unique market leaders
"Ferry will continue to be an independent operating company managed by our existing team and remain in Stow, Ohio," stated Covington. "I have known some of the Madison people for years," said Covington, "and I couldn't be more pleased that they have partnered with us to be the foundational company of their Madison Industrial Solutions group. It is a fitting recognition of the expertise of our employees and the leadership we have shown in the industries we serve." He added, "Our goal is for Ferry to continue to grow and prosper as we supply our RotoSpeed rotational molding machines, Femco band-saws and Quintax CNC routers to companies around the world."
Covington continued, "In March, we kicked-off 2015 with a 2,000 square-foot both at the NPE 2015 Plastics Show in Orlando, Florida where we displayed the newest evolution of our RotoSpeed Independent-arm machines, including a preview of the new RotoCure-IPC machine control system that we will soon be supply with all new RotoSpeed rotational molding Machines."
In the booth Ferry also displayed a live-operating Quintax E5512 5-Axis Machining Center. The Quintax machines are used for machining plastics, non-ferrous metals and for shaping and trimming ultra-precise composites for the aerospace and automotive industries.
Visitors from North America, South America, Europe and Asia were welcomed to the spacious Ferry booth where they viewed the latest innovations in machinery from Ferry.
For additional information contact Ferry Industries, Inc., +1-330-920-9200 or sales@ferryindustries.com
---
 FERRY PLAS-MEC HIGH-INTENSITY MIXERS CAN IMPROVE THE APPEARANCE AND QUALITY OF YOUR MOLDED PARTS
Ferry Industries Inc., Stow, Ohio.
The machinery, materials and methods used in the rotational molding industry have all evolved through the years to become more exacting and better controlled than in the past. As industry and customer standards have become more stringent, the rotational molding process is further challenged to compete with other plastic processes. New technologies must be incorporated to meet customer requirements.
Ferry Industries provides modern high-intensity mixers that will improve the appearance, quality and economies of rotomolded parts through efficient, uniform mixing of a base resin with colorants and additives. High-intensity mixing can maximize color usage, reduce scrap and "borderline" parts, enhance customer satisfaction, and result in higher profits for the molder.
Dry color is the most commonly used material for coloring the resin in rotational molding. The powder consists of several pigments and additives that are mixed together with the resin before molding. The object of high-intensity mixing is to uniformly cover the larger resin particles with the smaller color particles. More uniformly distributed color particles will allow less pigment to be used, will result in fewer inherent stresses, increase batch-to-batch consistency, and provide richer color for the finished part.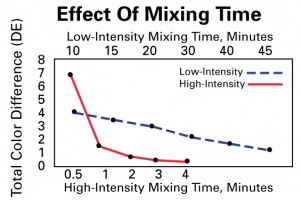 Current practice in the industry for molder prepped colored material requires that batches are made up in advance by putting the color and resin together into a mixer bowl and mixing it for 1 to 4 minutes with a high-intensity mixer, or 20 to 40 minutes with a low-intensity mixer. The color difference (DE) is an indication of how well the color matches a given color standard. Generally, the human eye cannot detect a color difference value of one unit or less. The colored material is then removed from the mixer and either stored for use later or moved into the molding area for immediate use.
Rotational molders are adopting high-intensity mixing technology to improve this process and realizing the following advantages:
Reduced mixing times compared to low intensity mixing.
Optimized raw material (color) usage due to fully developing the color.
Improved physical properties of the final part by reducing stress risers.
Reduced clean-out times for color changes.
Tighter color tolerances from batch to batch that reduce off-color parts.
High-Intensity Mixing
High-intensity mixing can be distinguished from other types of mixing by the speed and design of the tool that is used to create the mixing action. High-intensity mixers have a tool tip speed of approximately 35 feet per second. The tools are also designed to create a specific flow-path of the material in the bowl that causes even impingement of all the particles in the mix. This results in complete dispersion, promoting a consistent, high-quality mix from batch to batch.
The tool tip-speed is critical. It must be fast enough to provide the shear necessary to break up the agglomerates of color (color particles stuck together) and cause the color particles to be totally dispersed and evenly cover the resin particles. Color, as supplied by the manufacturer does have some agglomerates. The agglomerates need to be broken up to be able to make full use of the material. When the color particles cover the resin particles evenly, through high-intensity mixing, the molded part color is at its full strength.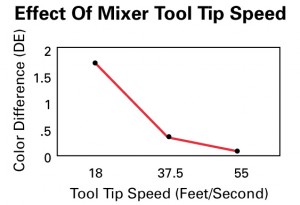 Experiments have demonstrated the impact of tip speed on the quality of color in the final part. In this experiment, a variable-speed laboratory size high-intensity mixer was used to mix the dry color into the resin. Samples of equal amounts of ingredients were prepared at the three tool tip speeds shown. The material was then molded and samples of the molded parts compared for their color. The graph indicates that a better match is made as the speed of the mixer tool increases over the range and that the increased speed caused the agglomerates to break up and coat the resin particles more evenly.
Another important aspect of tool design is that it must be able to move the material within the bowl so that total dispersion is accomplished. Once the color particles have been divided into their smallest parts they can disperse and coat the resin particles when coming into contact with them.
Optimum impingement and dispersion come about when the materials form a vortex while mixing. The vortex is the flow path that the material takes while being moved in the bowl during the mixing process. The mixer tool must be specifically designed to cause the material to move within the bowl as shown.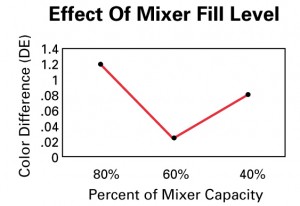 Additionally, the amount of material in the mixing bowl is critical to achieve the desired vortex. Too much material in the bowl will not permit sufficient movement of the material to create the vortex. Too little material in the bowl causes the material to float above the tool preventing equal shear and dispersion. The optimum fill level of the bowl will range from 50 to 85% full, but is empirically developed since it differs based on the materials being mixed. Each mix will have its own acceptable range of fill for the various recipes being used.
High-Intensity vs Low-Intensity Mixing
Low-intensity mixers can distribute color throughout the resin but, since no shear is created, the agglomerates still exist and complete color development is not possible. Additionally, the mixing times of low-intensity mixers are significantly longer than high-intensity.
Since the high-intensity mixer breaks up the agglomerates completely, all the color can be used to coat the resin. You can see the difference in the accompanying photograph. The dark, rich colored, molded sample was prepared using material that had been mixed using a high-intensity mixer. The lighter, pale color sample was mixed using the same proportions of resin and color in a low-intensity mixer.
The high-intensity mixing process is therefore very efficient. Since the color is at full strength, less dry color is required to achieve the same final color, resulting in significant cost savings to the molder.
Repeatability from batch to batch is more consistent with high-intensity mixing because the agglomerates are fully dispersed and the resin coated evenly. Low-intensity mixing will not break up all of the agglomerates, so the degree of dispersion will vary for each batch.
The mechanical properties of the final part are improved when there is consistent and complete dispersion of the dry color. Breaking up the agglomerates and evenly dispersing the colorant reduces the possibility of stress risers in the final part.
Selecting a High-Intensity Mixer
When selecting a high intensity mixer, two obvious considerations are that it have the proper blade design and be powerful enough to produce the shear required to break up the agglomerates and create a uniform coating action of the particles. Beyond that, three other considerations are typically evaluated:
Batch size required.
Distribution of material and automation requirements.
Ease of cleaning.
Stationary mixers are a most economical style. This style of mixer is generally located in a central part of the molding facility. After mixing, the material is distributed to the molding machines. Sizes of mixer bowls range from 200- to 1200-liter capacity for producing batch sizes of 175- to 1100-pounds. Options and features to consider include temperature and/or timer controls, as well as special wear coating on the tools to extend tool life.
To promote fast and easy cleaning, the surfaces in contact with the materials being mixed should be stainless steel and highly polished. The shaft sealing system should prevent material from leaking and protect the bearings.
Conclusion
High-intensity mixing is a technology available to rotational molders that allow a competitive edge over other plastic processes. For additional information contact Ferry Industries, Inc., +1-330-920-9200 or sales@ferryindustries.com
---
 FERRY INDUSTRIES
By Adam Covington, Sales Engineer, Ferry Industries, Inc.
As the management adage says, you cannot manage what you don't measure. The use of great procedures and systems designed to help control, measure and manage a process will help combat the impact of energy and utility costs on the rotomolder's bottom line.
The rotational molding industry faces stiff competition from competitive processes, lower wage economies, and we are continually fighting against trends for rising energy prices. The costs of utilities – natural gas, electricity, water and even compressed air as a type of "4th utility"– should be managed and monitored where possible to lower operating costs.
Steps that help the industry remain competitive will include good market knowledge, an effective energy management process, product technology, state of the art equipment & systems and sophisticated process management and control.
Ferry Industries' RotoSpeed™ rotational molding machines use advanced controls, features and systems available for new rotational molding machines and many retrofit applications to help the rotomolder manage the machine's functions, resulting in managed energy usage and in many cases, a measured effect of the energy being used. So we will explore those systems offered by Ferry Industries to help the rotomolder control, measure and manage the rotomolding process.
Machine Control & Reporting Software
Ferry Industries, Inc., offers all of their new RotoSpeed™ rotational molding machines with RotoCure™ 7.0. This software package allows rotomolders to control, manage, measure and report in several areas, such as:
• Process Management
• Process Trending
• Cure Recipe Storage & Retrieval
• Fault Monitoring & Maintenance
• Production Data Acquisition
RotoCure™ 7.0 allows a rotomolder to manage the machine parameters, view and log trends of temperatures verses time, create reports, allow viewing of trends and quickly identify any issues that could be causing poor performance or could lead to wasting energy. Without these tools, the rotomolder is operating without factual data and could be assuming production is running smoothly or even worse, not know why or where to look for issues with the machine configuration or faults that reduce the number of parts produced per day while allowing utility consumption to rise a simultaneously.
Infrared Thermometry™ (IRT)
Ferry Industries, Inc., exclusively offers Infrared Thermometry™ (IRT), a system of hardware and software added to RotoCure™ 7 and to the machine. This is an automatic non-contact process monitoring system that continually controls the machine, within set limits, to allow the machine to be adaptive to conditions in the factory based on temperature inputs taken directly from the mold surfaces. Both the heating and cooling phases of the cycle can be managed and controlled, resulting in less manual user adjustments of the process parameters and resulting in a more automated control package.
IRT monitors external mold temperature and computes the amount of thermal energy absorbed by the mold package; IRT controls the machine accordingly, causing more consistent processing. IRT provides the ability to add processing events during the oven phase and cooling phase at required temperature points. IRT provides process consistency in the oven and cooler and greatly reduces the impact of environmental changes, mold changes and operator errors or delays.
Benefits of IRT include:
• Assures process and part consistency cycle to cycle
• Decreases scrap due to ambient temperature changes
• Recovers quickly from operator induced faults
• No thermocouple wires to connect or repair
• Saves valuable machine time – no need to pre-heat the oven
• Assures optimum cure for optimum part properties
• Saves time by preventing cycle redundancy
• Help products maintain dimensional stability
• Integrates into Ferry RotoCure™ 7.0 System Manager
Gas Meter
On a Ferry Industries RotoSpeed™ rotational molding machine, a gas meter can be installed on the machine's main gas supply line. The gas meter reports the amount of gas coming through the meter. The pulse counter sends pulses to the machine control and this data can be logged and reported on the RotoCure™ screen and via exported reports.
So why use a gas meter? The gas meter is a tool, combined with RotoCure™, that measures the gas usage and we already know that if we measure it, we can manage it. The data can help determine gas consumption for part costing, maintenance indicator or productivity measurement. The digital gas meter quantifies gas usage and the data is stored for logging and reporting in the RotoCure™ 7 process control system on Ferry Industries RotoSpeed™ rotational molding machines.
Oven Exhaust Fan VFD
All newly manufactured RotoSpeed™ machines are manufactured to use variable frequency drives to control the speed of the oven exhaust fan rather than the use of a modulated mechanical damper. With oven exhaust fan speed managed by a variable frequency drive (VFD), when controlled by Ferry's RotoCure™ machine control system and burner components, will result in an 8-12% energy savings. Unmanaged exhaust fan speeds or modulated exhaust fan dampers attached to fans still running at 100% speed regardless of burner demand is the old way of processing; it is time to allow the machine controls to manage the process.
A VFD controlled exhaust fan reduces the amount of heat that is extracted from the oven and sent up the exhaust stack resulting in less energy being lost in the rotomolding process. This type of VFD system can be retro-fitted to existing machines to replace the mechanical damper assembly and to allow the machine control to manage the exhaust fan speed relative to burner demand.
Oven Circulation Fan VFD
Like the oven exhaust fan variable frequency drive (VFD), the oven circulation fan VFD allows the fan speed to be managed and controlled by Ferry's RotoCure™ software, allowing flexibility to adjust air scrub rates during processing as well as allowing the fan motor horsepower (HP) to be lower than in year's past. With a lower horsepower fan running and the ability to control processing speeds, the electrical energy usage of the largest HP electric motor on the machine can be reduced. The results are maximum airflow with minimum power consumption at high temperature levels.
Oven Burner
Many of Ferry's RotoSpeed™ rotational molding machines use the Maxon OVENPAK® LE style burners that offer clean combustion with lower CO2 and lower NOx compared to previous burner systems. These burner systems also offer a 50:1 turndown ratio for exceptional process control. The overall efficiency of the burner combustion is increased while using low gas supply pressures.
The burner on a rotational molding machine is extremely important to the rotomolding machine and the process. A properly sized burner for the machine, large enough for quick oven temperature recovery that is gas efficient will assist in managing the cost of the energy input to the process. Monitoring the gas usage with the burner with a gas meter helps ensure the burner is tuned properly and can catch drift or maintenance problems based on logged history of gas consumption; they go hand-in-hand for sustainable process control.
Oven Heat Exchanger
Oven heat exchangers are offered for both new and existing Ferry RotoSpeed™ rotational machines. The system of mechanical components can reduce gas consumption by 18-22% and the return on investment can be calculated against the cost of gas and frequency of use of the machine, but in rotational molding, these are large numbers to consider towards the bottom line.
• The heat exchanger uses oven exhaust stack heat to preheat inbound combustion air to the burner rather than the burner heating ambient inbound air
• Improved oven cycle times are also possible due to faster oven heat recovery
• System can be installed on new machines and retrofitted to existing machines
• Look for incentives from federal and local government agencies for rebates and tax credits to lower the ROI on this long term money saving investment
RotoLog™
RotoLog™ provides the ultimate level of real-time analysis and logged data of a rotomolded part's internal air temperature. By monitoring and logging the data, key decisions can be made about process parameter changes that can result in high quality and qualified parts as well as optimizing cycle times and utilizing only the energies needed by the machine to make the parts required and nothing more.
Advantages of RotoLog™:
Optimize cycle times – develop optimum cure & cooling times and temperature set points
Develop correct molding cycles for new molds the first time
Optimize cycle times for multi-cavity spiders
Reduce scrap quantities
Save energy through cycle optimization
Improve quality of rotationally molded plastic products
Provide quality control data for customers
Evaluate and qualify new materials and molds
Capable to run continuously, 24 hours per day, with proper upkeep and ice pack exchanges
Again, when the process and the parts are measured, the process and parts can be managed. RotoLog™ can save the rotomolder time, energy costs and raw materials which all effect long term profitability.
RotoCycle™ Production Simulation Software
RotoCycle™ is a computer software program, developed by Dr. Paul Nugent, which enables a rotomolder to simulate rotomolding machine production, station utilizations and assist in showing bottlenecks in the cycle. By simulating scenarios that improve oven and cooler utilizations, a rotomolder improves their capability to reduce energy consumption. Energy can be saved by using this tool in preparation of machine production to provide metrics to measure the actual machine production against, thus reducing energies spent testing production scenarios on the machine. Other benefits include:
Mold mix on the arms of multiple styles of machines; turrets, independent arm, and in-line shuttle
Calculate production cycles
Select proper machine types for product mix
Save/Name simulations
Analysis of cycle simulation
Graph utilization of stations
Projection of completed cycles for each arm in a given time frame
Select saved simulations for review
By using actual time study data from a rotomolders process, the software can estimate production capabilities to provide metrics that managers can use as a guide for physical production. The data serves as targets for production, though efficiencies and planned maintenance need to be factored in to the raw output calculations that are offered by the software.
Fire Brick
The ovens of rotational molding machines commonly have fabricated and insulated floor sections. An alternative to this type of floor is to exchange this insulated fabricated floor for a layer of fire brick, like building a patio, covered by appropriately shaped and sized sheet metal cover sheets.
The layer of fire brick provides an improved barrier to heat loss from the oven cavity to the concrete floor as well as allows for some heat reflectivity and recovery once the oven doors close for each cycle. Ferry Industries has worked with some customers to implement this solution and the reports indicate some benefits to oven performance. Fire brick materials and densities must be properly specified to ensure appropriate performance.
The sheet metal covers ensure plastic powder does not fall into and melt onto the fire brick to reduce the chances of the melted plastic from ruining the bricks and provides a layer of protection should something fall onto the bricks.
Oven Door Seals
Maintaining and replacement of the oven door seals is important to reduce the heat losses created by the gaps between the oven doors and main oven structure. These gaps, if not properly sealed, will allow substantial heat to escape as well as allow shop air to enter the oven chamber resulting in a less efficient oven. This type of air leak likely won't be a large cost over a couple days or even a week, but if you add up the extra gas used to heat the oven due to the leaks over a year or two, this could become a sizable number. Also ensure the oven doors are properly adjusted to fit tight to the new seals you just installed.
Oven Burner Maintenance
At a minimum, all rotomolding machines should have their oven burners evaluated, tuned and tested for proper function and performance on an annual basis by trained personnel; more frequently depending on production schedule, fuel being used and temperatures set points. There are maintenance services and companies specializing in burner maintenance as well as some of the burner manufacturers who can assist a rotomolding company complete preventative services that will catch potential problems early before the costs for repair and down time escalate.
All too often this type of maintenance practice is over-looked or regarded as too expensive and too time consuming; what is expensive is when a failure occurs at the worst possible time, repair parts have to be shipped for expensive next day am delivery and emergency service work has to occur and be scheduled, not to mention the cost per hour of lost production. It's better to plan the maintenance around production, implement the service and by checking the burner condition and performance on a frequent basis, minor problems never become major shut downs.
There have been many articles in our industry trade magazines as well as presentations at trade shows and conferences on this very topic; this topic is being constantly discussed because it is so important. If the maintenance is managed and monitored, gas consumption and oven performance is measured, the return on investment and production output can be tracked as a visible impact of this maintenance.
Fan Horsepower and Flow Rate
At Ferry Industries, the fans we use on our RotoSpeed™ machines for the oven and cooling stations are being evaluated to find lower horsepower fans that use improved air flow and mechanical design technology to sustain the same, or in some cases, higher flow rates. The impact is a fan that draws less power while delivering the same or more flow rate compared to its larger horsepower relative. These types of initiatives and changes help reduce electrical energy consumption over long term use of the machine while not sacrificing performance and production cycle time.
Water Usage
If water is used as a medium for cooling the molds in a rotomolder's process, evaluating ways to lower water consumption should be considered, since for some rotomolders this is yet another utility and cost of production. If heavy water spray is used in the cooling chamber, this water will gather and pool in the cooler pans. Rather than allowing this water to just drain or evaporate, implementing a water filtering and recirculation system can help recover and reuse this standing water for the cooling process reducing water consumption and utility cost.
Alternatively, high pressure mist systems or air/water atomization systems can be used to improve the surface area and coverage of the applied water resulting in less or no standing water in the catch trays. The fine water droplets are fully consumed by the evaporation process on the hot molds. Water meters could be used to measure and monitor water usage if the consumption needs to be monitored for costing and process control monitoring.
---
---
 Company Profile
---
A COMPANY PROFILE — 85 YEARS IN THE MAKING
Founded in 1927 by Ernest Ferry, Ferry Machine Company was a general machine shop manufacturing jigs, tool fixtures and close-tolerance parts. Later the company began to produce machinery built to customer specifications.
Harry Covington purchased the company in 1982 and changed the name of the company to Ferry Industries, Inc., to reflect the company's new market strategy — to build its brand of RotoSpeed™ Rotational Molding Machines and its brand of FEMCO Foam Cutting Machinery.
Ferry produced its first rotational molding machine in 1983 and since that time has manufactured more than 1,000 machines that have shipped to more than 55 countries.
Ferry Industries' goals for rotational molding were clearly defined: faster cycle times, tighter process control and more flexibility. Ferry developed what is now the most extensive and sophisticated product range offered to the industry: Carousel, In-Line Shuttle and Rocking-Oven machines; more than 35 machine models in its product range.
Major advances in the rotational molding industry over the last 29 years are attributable to Ferry RotoSpeed:
• Produced the first five-station, four-arm independent-arm machine. Because of the independent indexing capability of the arms, molders now can produce vastly different products of size and weight with different cycle times on the same machine and simultaneously.
• Ferry was the first company to expand process capabilities on rotational molding machines by using computers. Ferry's RotoCure™ System Manager provides the most flexible and comprehensive control system for rotational molding machines.
• Developed the Multiple-Passage Internal-Gas supply system allowing molders to use dual- and triple-passage inner-air capability.
• Queen's University – Belfast, invented RotoLog, the industries' first process monitoring system. Ferry bought the patents in 2000 and continues the development of the world-renowned system. The newest generation of RotoLog can be integrated into Ferry's RotoCure 7™ machine operating system.
• InfraRed Thermometry™ (IRT) was created by Ferry as an integrated system to provide a "non-contact" adaptive process control system which allows the rotational molding machine to continuously monitor and adjust the process to generate consistent parts while reducing scrap and increasing the output of high-quality molded products.
• Ferry's RotoSpeed™ oven, with its unique counter-convection airflow design allows for faster oven cycle times.
• Integration of barcode label printers into RotoCure 7™ process control system provides a foolproof way to uniquely identify every molded part.
In 1998 Ferry purchased Quintax, its line of 3-axis and 5-axis CNC machining centers. These automated CNC machines are used to trim rotational molded products, thermoformed products and injection molded products. Quintax has many successful applications in the aerospace industry.
In 2008, Ferry signed an agreement with Perscio SpA of Bergamo, Italy, under which Ferry markets the Leonardo rotational molding system in North America. Under a reciprocal arrangement, Persico became Ferry's sales agent for the European market.
From its beginning, Ferry Industries has created a flow of new product ideas, technology and productivity improvements unprecedented in the rotational molding industry. The company is determined to continue its innovative ways, forming relationships and inviting rotational molders to look to Ferry Industries for the machinery, equipment and process improvements that help them succeed.
4445 Allen Rd. • Stow, OH 44224 USA • Ph: +1.330.920.9200 • Fx: +1.330.920.4200 • www.ferryindustries.com • E-M: sales@ferryindustries.com