It's All About the Trace
Uniontown, OH, USA — "I've been keenly aware of the importance and value of being able to measure the air temperature inside of molds since the early days when Paul Nugent introduced us to it at an Association of Rotational Molders' meeting in Toronto. That was more than 20 years ago and I continue to believe that more rotomolders can benefit by having accurate and reliable access to this vital information," said Terry Gillian of Paladin Sales, a Manufactures' Representative Company that provides products and services to rotational molders.
There are a number of devices commercially available that can provide the Inner-Air Temperature (IAT) data, but the new Paladin EZ Logger offers advantages that should convince all molders to invest in this simple, low-cost system. The EZ Logger will access the IAT data and deliver it as easily, accurately and efficiently as possible. That's why we say, "It's All About the Trace".
The Paladin EZ Logger System:
Is very easy to use
Will monitor and record the inner-air temperature (IAT) in real time
Displays the temperature in graph form and as temperature/time data
Can be downloaded and manipulated in programs such as Excel
Is small and lightweight
Is easily mounted to a spider or mold
Consists of easy-to-manage software
Is easily maintained
Has a very low cost
This simple, single-channel device is designed to be quickly and easily attached to a mold or spider. The thermocouple wire is simply inserted into the mold through the vent tube, so no mold modifications are necessary. Attaching the system on the arm typically takes less than 2 minutes. Therefore, it can be readily installed and removed within the normal cycle time.
The Paladin EZ Logger is user-friendly so that quality and process personnel will welcome it and use it; not just store it and lose it. The complete system is packaged in a Protector/Storage Case so components do not get misplaced or lost. It is portable so that users such as material suppliers or industry experts can carry or check it onto an airplane to have it available at any time or place. Most importantly, the complete system is low-cost, easily maintained and quickly repaired if necessary.
The software required to interpret the collected data is provided on a DVD that is included with the Paladin EZ Logger. Once loaded, it transforms your laptop into a strip chart recorder and data logger, so readings can be displayed and saved. Data may then be printed or exported to a spreadsheet file for further study. The resulting graph from a typical cycle is shown in Photo 1.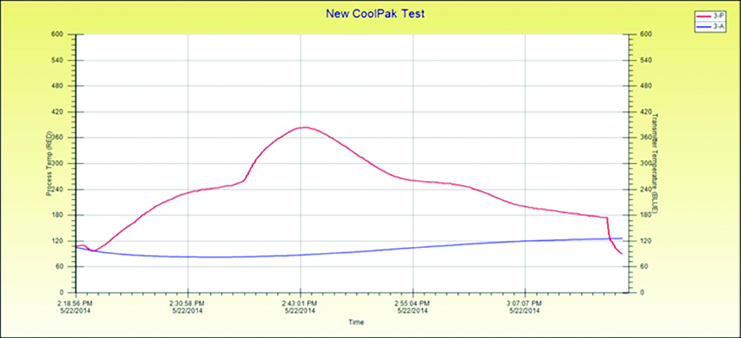 Operation: The wireless transmitter is battery powered and transmits readings to a receiver attached to a customer-supplied laptop located at the rotomolding machine. The unit measures and transmits the process input reading (Inner-Air Temperature), the transmitter's ambient temperature, RF signal strength and battery condition at a user pre-set time interval. The transmitter is housed in a safe operating environment inside a stainless steel, insulated container. Ambient-Temperature Heat Sinks maintain a level temperature inside this container. The heat sinks are rotomolded with temperature-leveling material sealed inside. The AT Heat Sinks may be used at room temperature and do not require refrigeration.
For more information about the Paladin EZ Logger contact Paladin Sales or visit our website at www.paladin-sales.com.