Powder King
---
---
Company Articles
---
PKA Velocity Pulverizing System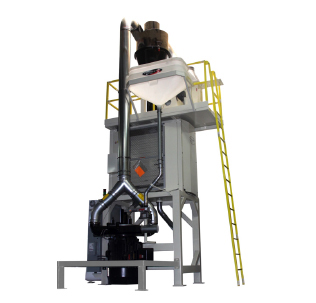 Powder King®, founded in 2003 by Jim Hummel who is now a 25 year veteran in the Rotational Molding Industry and has 40 years fabrication experience, has once again taken their line of pulverizing systems to the next level.
Powder King® is well known for their unigue direct drive, operator friendly, compact modular space saving systems. The systems are built with all the lastest technolgy not available by others in the industry, such as: direct drive mill to utilize 100% of available HP of the mill motor; pocketed designed flywheels and water jacketed adjusting fixtures to mount their one-piece abrasive resistant disks; and utilizes disks compeletly captivated 360 degrees on OD and ID of their disks by segmented clamping system.
Powder King® also has state of the art single screw disks gapping adjusters to make setting the gap between the disks fast and extremly simple, unlike other methods that require many tools and are very time consuming to set the gapping between the disks.The disk gap adjusters are only on a Powder King® pulverizing system. The systems also have integrated work platforms for operators to access the different levels of the machine and sifters which are 100% guarded to protect operators from the moving sifter boxes as well as when accessing the area via work platform. All systems have a break over hinged cyclone for ease of access and cleaning. All piping is heavy guage using O-ring sealing clamps to quickly clamp together the piping and insure of leak free connnections. The machine control is powered by Eaton Cutler Hammer PLC and HMI touchscreen control, allowing the machine to percisly control the pulverizing process.
"The newly developed, patient pending PKA Velocity Series™ design has gone to the next level of pulverizing. We have engineered and produced our fourth generation system," said President and Owner of Powder King® Jim Hummel. "We are always looking for ways to make our equipment better for the industries we serve, and the new PKA Velocity Series ™ will be the ticket to great success for Powder King®, said Hummel. The newly designed mill now has dual air inlets controlled by air damping valves to control the volume of air intake into each of the air inlets in the mill chamber. These double the amount of air intake into the
mills cutting chamber.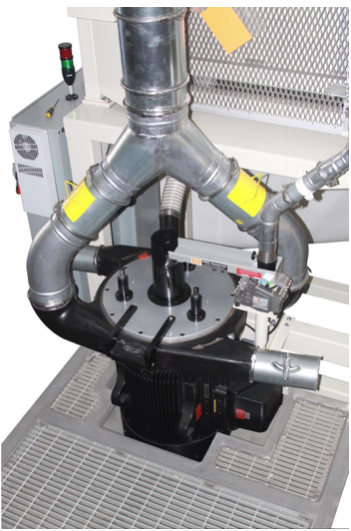 The mill also has dual material outlets which takes the material out of each side of the mill to reduce residence time and heat build up in the mill. The direct drive mill is powered by a 150 HP motor, which is driven by an inverter drive mounted into the control panel of the machine for the mill motor. "We are always concious about power demands and costs of operation. This is why an inverter drive is used. The start up of this motor only draws 50-55 amps at start up of the mill, unlike other starting methods utilized by other machines that causes huge power draws and spikes in customer's electrical demand, and dramtically increases the cost of electrical usage for our customers. The inverter drive also serves other purposes in our systen, like adjusting the tip speed of the mill's disks should control be needed to alter grinds of some resins. This is a added feature I don't think othes think about when versatility is needed in some cases," said Jim Hummel.
The PKA Velcosity Series™ mills are born from understanding polymers and the pulverizing process, and also from being willing to be creative, and by a willingness to explore options other than standard type of pulverizing mills that have more or less the same principals of the milling process. Power King® has always been creative and we never intend to stop further research and development of our products and the pulverizing process.
The new PKA Velocity Series™ mill design is proving to produce some very large numbers for a single mill pulverizing system, which is sure to turn some heads and once again prove to the industry Powder King®'s commitment in producing producing world class systems.
For information about Powder King® feel free to contact us or visit us on the web at www.powder-king.com
---
POWDER KING® PKA-18 FULL SCALE LAB MILL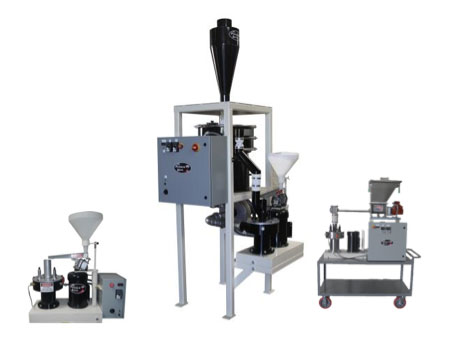 Powder King® has been building their PKA-18 bench top lab pulverizing system since 2005. This system has won them a runner-up award in Powder and Bulk Engineering Magazine for laboratory equipment of the year. The lab mill has been very popular with resin companies, compounders, universities, and rotomolders throughout the world for pulverizing test batches of resins and compounds. The PKA-18 was built specifically for small sample pulverizing for rotational molders and compounders to test small samples that it would not be possible to do at a reasonable cost on large full scale production pulverizing system. The PKA-18 will pulverize samples as small as 1 pound to 100's of pounds if desired. The cleaning is fast and easy so many samples can be pulverized in a short period of time.
The demand has grown for a full scale system to do everything a production model can do, meaning screening the particle sizes with sifter for selected mesh the client is looking to achieve on the final powder particle size and distribution. The full scale system has all the capabilities of full production pulverizing system and at a much lower price of the production sized pulverizer. The PKA-18 full scale system is easy to clean and will pulverize many different polymers. The system has been designed to accept the bench top PKA-18 should the client want to upgrade to the full scale model from their current PKA-18 benchtop model.
Powder King® also has developed their PKA-18 Cryogenic lab pulverizing system as well for the pulverizing of very heat sensitive resins. The cryogenic pulverizer is exclusively for small runs of heat sensitive resins to reduce cost of large runs in production models that can be very expensive to produce in larger full scale cryogenic pulverizing system.
"We are listening to what the industry is looking for," states Jim Hummel President and Owner of Powder King®, LLC "and are continually expanding our capabilities and the Powder King® line of pulverizing systems. Please feel free to contact us at Powder King® or visit our web-site: www.powder-king.com. We would be happy to assist you or provide any information you may require on the line of Powder King® pulverizing systems and services."
---
POWDER KING® PKA-18 CROYOGENIC PULVERIZER
In 2013 Powder King® built and installed there first Laboratory Cryogenic Pulverizing System for Midwest Elastomers in Wapakoneta, Ohio. Midwest Elastomers are a large specialty cryogenic grinding company that pulverizes the most heat sensitive plastics, rubbers, and exotic materials that require the cryogenic pulverizing process. The PKA-18 Cryo purchased by Midewest Elastomers has been in a long testing phase at Midwest Elastomers to ensure that the Powder King® PKA-18 Cryo will handle the extreme environment associated with Liquid Nitrogen and cryogenic pulverizing.
The PKA-18 Cryo is built completely from stainless steel to handle the sub-zero temperatures endured when using Liquid Nitrogen to freeze the products to sub-zero state for pulverizing. The PKA-18 is fitted with a stainless steel hopper and auger system to hold the product and also feed the product through the auger tube while adding Liquid Nitrogen to the product as it is being conveyed in the auger tube. The mill also has Liquid Nitrogen inlet fitting to add the Liquid Nitrogen into the mill grinding chamber to ensure proper cooling temperatures are maintained. The PKA-18 control panel is fitted with temperature controller, inverter drives for the mill motor to optimize disk speed, and the auger to ensure maximum speed adjustments are available for these components.
The PKA-18 Cryo has lived up to the highest standards that Powder King® pulverizing systems have been known for in the Industry, and opens the door to the larger production model Powder King® Cryogenic Pulverizing systems that will be launched in 2014. Once again Powder King® has engineered, manufactured, and delivered what we have promised to our customers.
We invite anyone to visit our Powder King® web-site at www.powder-king.com or give us a call to discuss your pulverizing requirements.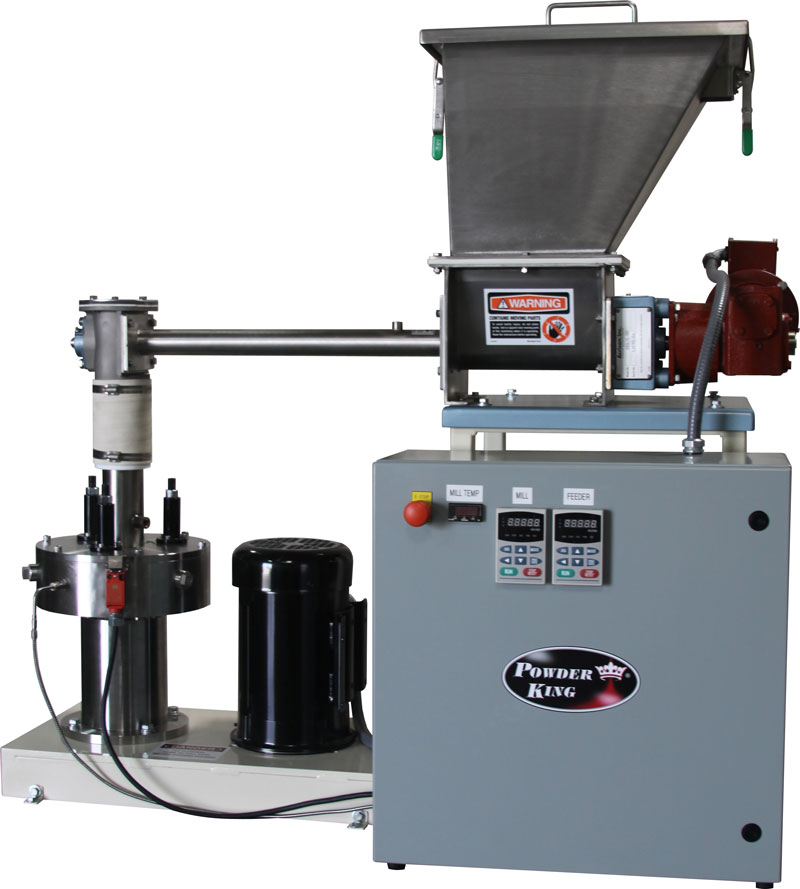 ---
POWDER KING® NEW DISKS & SHARPENING SERVICES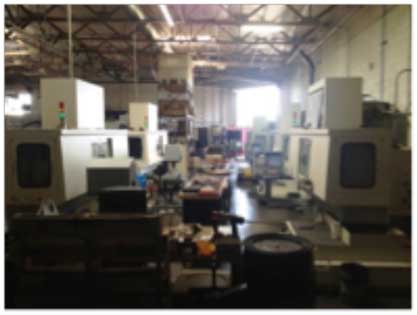 Powder King® worldwide supplier of pulverizing systems and services since 2003 has continued to expand the company's capabilities and services for the pulverizing industry. In 2014 Powder King® has added their 5th CNC precision disk sharpening machine for new disk manufacturing and also their sharpening services. We have invested heavily to provide these services to the industry and plan to continue to grow this into the future. They also have state of the art computer balancing machine for precision balancing of the disks or any rotating parts on a pulverizing system. Their plans to further expand services into other parts of the country and throughout the world are being evaluated and planned. This is a very important service for our company "Says "Jim Hummel owner of Powder King®. We can produce and control the quality of our disks for the Powder King® systems and also for other pulverizing systems as well in the industry. We have large inventory of new disks ready to ship to our customers and to new customers. We only produce the highest quality disks from the most exotic steels for abrasion resistance and extended durability. We do not offer lesser quality steel to sell our products and services. We believe you should always offer the best up front to the customer with equipment, parts and services. We never sacrifice quality to be competitive, it's only the best or proven technology from Powder King®.
Powder King® is also putting together a program for companies that are not in the USA and are incurring high freight costs for constant sharpening services. This program from Powder King® will be huge savings for companies that have large expenditures for freight and sharpening costs. This program makes sense for them to consider what we have to offer them. This is just another service that Powder King® would like to add value to ours and our customers company.
We invite anyone to visit our Powder King® web-site www.powder-king.com or give us a call to discuss your pulverizing system requirements.
---
---
Company Profile
---
Powder King® celebrates 10 year anniversary of business serving the plastics industry with their line of pulverizing systems and services. Powder King® was founded in 2003 by Jim Hummel, a respected industry professional with decades of fabrication experience and former vice president of sales for a major plastics machinery company.
Jim, realizing that he had something very special to offer the rotational molding industry, designed, built, and subsequently installed the company's first prototype pulverizing machine at a PVC recycler, the harshest environment possible for a pulverizing system. With success in the testing phase and a few tweaks and adjustments, the new line of Powder King® pulverizing systems were then commercially launched and Jim hasn't looked by since. The first real break for the new company was when longtime friend and business owner, Gary Rozak of Centro Corporation, met with Jim to discuss the expansion of Centro's Claremont, NC facility. Centro needed an installation of a complete pulverizing operation at their facility, and they once again put their trust in Jim Hummel, after his first installation into their North Liberty, Iowa facility many years earlier with other equipment. Building upon Jim's innovative ideas to improve this type of machinery, the company progressed their machine designs and developed the direct drive pulverizing system, which took on a whole new look from the traditional industry pulverizing system. Jim's goal was to eliminate the cost of maintenance on the drive system, which in traditional systems was a belt drive with expensive bearing housings, which are also noisy. The direct drive eliminated the expense of stocking belts, bearings, seals, and even a very expensive spare bearing cartridge. The decibel level was also dramatically reduced making the Powder King® direct drive under hearing protection level. The noise level was again reduced substantially by placing their backward incline impeller in the fan on the system. Powder King® utilized many sub-contractors in the early days, but Jim knew they had to eventually bring all their manufacturing in-house. Beginning in a 3500 sq. ft. facility in Anthem, Arizona, with 4 employees space was quickly used up and additional employees were needed. In 2007 the company purchased their current 20,000 sq. ft. manufacturing space and now employs 8 at the facility. It was a big move and a big commitment to the future for the company to move all their manufacturing in-house, but this was much needed to control the growth and future of the company. Powder King® also started up their own disc sharpening service center in Arizona, as well as in Australia, to service a growing customer base. "We always want to do the best job possible in servicing our customers," Jim says. "We may not be perfect 100% of the time, but you can ask any Powder King® client and I feel confident they will tell you that we are pretty good at what we do and always there quickly to respond to their needs." The Australia operation was very successful and was eventually sold to local and longtime entrepreneur to add to their company line of services. Powder King® has been at the forefront of machine design with three generations of their pulverizing system, and as a result, "We have the ultimate pulverizing machine for the industry," Jim says. "Our last design change was a game changer for the rotomolding industry, and now with over 200 machines throughout the world, it looks as if the future is very promising for continued and sustained growth." We will continue to be creative, to be leaders in the plastics industry, and will be there for our customers when they need us. It is the Powder King® philosophy to always listen to their customers to be better. "We cannot get better if we don't listen and pay close attention to business," Jim says. With many more advancements planned in the future as resins change and requirements for this type of equipment demands change, "We will always stick to what has gotten us this far and what we believe will carry us into the future in pulverizing system development," Jim says.