Promens Opens its First Production Facility in China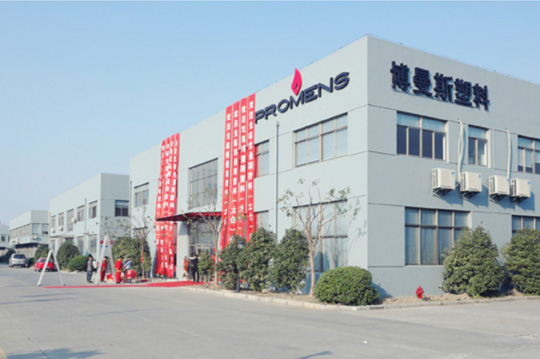 The CEO of Promens, Jakob Sigurdsson, declared Promens first production facility in China formally open, at an inauguration ceremony held at the new location in Taicang, on the 30th of November 2013.
The opening celebrated the beginning of production in China and was attended among others by H.E Stefan Skjaldarsson, the Icelandic Ambassador to China, Mrs. Lu Yan, the Vice-Mayor of the city of Taicang, Mr. Wang Hong Xing, the Party Secretary of ChengXiang, and Mrs. Hu Jie, Mayor of Chengxiang. "The new Promens production facility in Taicang represents a very large step in our strategy to leverage our strong customer relationships in rapidly growing economies, where plastics will play an important role in optimizing supply chains, increase food safety, and meet the needs of a growing middle class," said CEO of Promens Mr. Jakob Sigurdsson. He also emphasized that the facility in Taicang provides Promens with a platform to serve both local and global customers in a more integrated way, from idea generation through product development and production.
During the opening ceremony Mr. Hermann Thorisson, the Chairman of the Board of Promens, and Mr. Wang Hong Xing, the Communist Party Secretary of Changxiang, signed a letter of intent to further accelerate Promens expansion in Taicang.
"When Promens chose Taicang as the first location for production in China, one of the most important elements was the local government's support and understanding of our approach to investing in China, so we are very pleased to be able to announce a faster expansion than initially planned," said Mr. Hermann Thorisson.
"By setting up facilities in Taicang, which initially will manufacture insulated tubs for the food industries, Promens also opens up opportunities to serve global clients in the automotive sector, personal care, and medical packaging," said the Managing Director of Promens Asia, Mr. Bjarki Gardarsson. The opening on Saturday was only the first of several phases planned by Promens. This first phase is based on rotational moulding and will primarily serve the food and material handling industries. The next phase is geared towards the expanding automotive industry in China and is set to begin production early next year, while the third phase will be based on injection and blow moulding technologies, and planned for the end of next year.
In December of last year the Board of Promens approved the investment plan for a manufacturing facility in China, to be based in the city of Taicang. The formal signing of the investment contract with the city of Taicang took place in the Great Hall of the People in Beijing in April, 2013, in the presence of then Icelandic Prime Minister Jóhanna Sigurðardóttir and Premier Li Keqiang at the same time as the Free Trade Agreement between Iceland and China – the first one that China signs with a European country.