Thai Plastics and Rubber Trade Fair Returns with New Name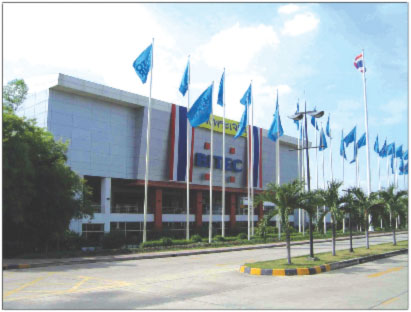 BANKOK, THAILAND — With the new name T-PLAS, International Trade Fair for the Plastics and Rubber Industries, the event formerly known as TIPREX will be held from August 26 – 29, 2015 at BITEC in Bangkok, Thailand. Online exhibitor registration is now open at www.tplas.com. PACK PRINT INTERNATIONAL 2015, 4th International Packaging and Printing Exhibition for Asia, will be held concurrently, emphasizing the global market synergies of the plastics, rubber, packaging, and printing sectors. T-PLAS 2015 will continue the success of TIPREX by serving a diverse customer base from a wide range of markets such as building and construction, mold and die, and electrical and electronics engineering.
Organized by Messe Düsseldorf Asia, T-PLAS is part of Messe Düsseldorf's comprehensive portfolio of plastics trade fairs all over the world. T-PLAS is supported by the No. 1 global trade show for the plastics sector – K – organized by Messe Düsseldorf in Germany every 3 years.
"The T-PLAS brand emphasizes Messe Düsseldorf Asia's expertise in delivering a highly relevant platform that features a full spectrum of solutions, including the latest machinery and equipment, semi-finished products, technical parts, and reinforced plastics as well as raw materials and services for the plastics and rubber sectors. T-PLAS 2015 is also strategically positioned since Thailand is home to more than 4,000 plastics processing companies, making it Southeast Asia's largest plastics processing industry. With T-PLAS 2015, we provide participating companies with strategic opportunities to enter the regional plastics and rubber markets," explained Gernot Ringling, Managing Director of Messe Düsseldorf Asia. Thailand also features a robust local presence of global automotive and electronics manufacturers and plans to become the regional leader in bioplastics production.
"The co-location of T-PLAS and PACK PRINT INTERNATIONAL 2015 will sharpen the profile and enhance the importance of the two independent trade fairs, particularly with rising demand in the rigid plastic packaging and flexible plastic packaging markets," stated Gernot Ringling. Both trade fairs will also be held against the backdrop of the AEC (ASEAN Economic Community) in 2015 – the economic integration of the region under a single market and production base.
Held biennially, the combined range of exhibits at T-PLAS and PACK PRINT INTERNATIONAL will focus on emerging industry trends and further highlight Southeast Asia's fast-growing plastics, rubber, packaging, and printing sectors.
For further information on visiting or exhibiting at T-PLAS 2015 or PACK PRINT INTERNATIONAL 2015, contact Messe Düsseldorf North America, 150 North Michigan Avenue, Suite 2920, Chicago, IL 60601. Telephone: (312) 781-5180; Fax: (312) 781-5188; E-mail: info@mdna.com; Visit our web site http://www.mdna.com; Subscribe to our blog at http://blog.mdna.com; Follow us on twitter at http://twitter.com/Plastics_MDNA and http://twitter.com/Packaging_MDNA.