THE CENTRO STORY ON THE 50TH ANNIVERSARY
"If you build it, they will come"
Brian Olesen, Centro Inc., President & CEO
Long before the iconic movie Field of Dreams proclaimed "if you build it, they will come" regarding a baseball field in an Iowa cornfield, Dick Rozek bet on that same dream in a different Iowa cornfield in Oxford, Iowa. Betting that if he could build a company on a basic concept of being the best "they" (customers) would come. And come they did.
After a brief MLB pitching career with the Cleveland Indians (yes, it is true he threw the first homerun ball to Mickey Mantle at Yankee Stadium) and a successful manufacturing representative career, Dick went all in on his dream to start Centro, Inc. in 1970 as a custom rotational molding company.
Today, 50 years later, Centro, the largest custom rotational molding company in North America, a juggernaut as an international enterprise, employing nearly 1,000 people with 10 locations in 3 countries with deep roots in the Iowa soil while still adhering to the belief of picking one thing and always striving to be the best at it.
1970's Fighting for Survival
Focused on converting fiberglass products for John Deere Des Moines Works proved a great application for rotational molding, but the recessionary business climate fueled by the energy crisis proved challenging to the start-up business. With banks tightening lending standards, cash to fund the business just wasn't available. In order to survive Dick sold debentures to friends and family in order to make payroll. Crosslinkable polyethylene emerges as a material opening a major new application to rotomolding with the John Deere snowmobile fuel tanks being one of the first major applications. The crisis passed, funding was secured, and Centro was ready for growth.
In the late 1970's Dick's son Gary joined the business and as he likes to say, "learning the business from the ground
up started by cleaning the restrooms,  trimming parts, and running the McNeil molding machines."  It wasn't long before Gary could see the potential that rotomolding and Centro could be and was ready to create the roadmap and vision of what it was to become.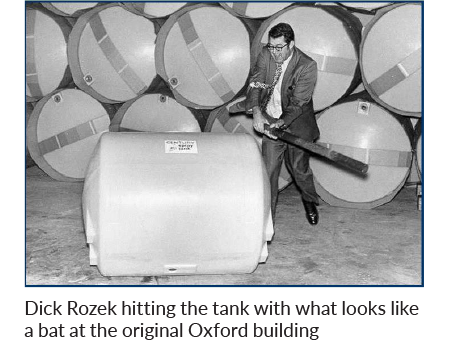 Dick was a true entrepreneur and maintained that spirit of taking risks to start and grow the business. Gary had the vision and was the detailed operator that together propelled Centro's future. Both believing that the foundation of any good business includes valuing the Associates, believing in long-term mutually beneficial relationships with their customers, suppliers, and communities.
1980's "In like a lamb out like a lion"
In the early 1980's the farm crisis hit Iowa, Centro and the rest of the agriculture community extremely hard. Again, Centro was in a fight for survival. The company faced a pivotal crossroad and a need to diversify its business. The first step Dick and Gary pushed was expansion into the lawn and garden industry by opening a new facility in Horicon, WI to serve that market in 1984. It was clear to them, especially in rotomolding, that a proximity relationship with your customer or market is critical in order to successfully diversify, a concept that would later be perfected.
They also saw an evolving need for more technical part molding and taking rotomolding from tanks to more engineered applications, which included a backhoe loader roof, interior cab ducts and dashes, which were all new territory at the time and was pivotal to the evolution of Centro into a technical parts molder for industry leading O.E.M. customers.
Marching into the 1990's believing a single, strong focus on custom technical rotational molding, in a proximity relationship with the customer would propel the business forward.
1990's Roaring Growth but Centro loses its founder and original facility
Building on the success and focus of the previous decade the 1990's began by embracing supplier integration as the next tenet of the Centro business model. Centro's evolving engineering strength for the technical moldings developed further by providing on-site engineering and development for customer design integration. Centro's engineering team worked within our customers facilities to develop, design, and test the award winning and patented design conversion of John Deere Harvester corn points and decks. It became clear the power of early integration with design produced rotomolding cutting edge products and functionality. It wasn't long after the entire industry's combines harvesting points and decks were rotomolded.
Centro built and moved to the corporate headquarters and flagship manufacturing facility in North Liberty, IA just a few years before a devastating fire consumed the founding facility in Oxford, IA. A snowy late winter followed by a rapid thaw and freeze caused a partial roof collapse over an electrical junction box which was the source of a complete loss of facility, fixtures, and molds, but fortunately no personal injuries. It's here however that the Centro spirit supported by the rotomolding industry sprang to action.  Mold builders Rivers Metal Products, Lakeland Mold, Viking, Wheeler Boyce, and Kelch all responded with unbelievable heroics building molds that normally took 6 weeks in 6 days. Through it all, Centro supported by many, were able to meet all production obligations without shutting any customer lines down – a devastating loss mobilized into an unbelievable successful recovery effort.
Centro's sales rose from $10 million in 1990 to over $50 million by the end of the decade requiring expansions in North Liberty, a brand new facility in North Carolina, a joint venture operation in Monticello, IN with Donaldson Company, the introduction of a focused factory in Valley City, ND, and shortly thereafter the second in Thibodaux, LA.
The focused factory concept targeted the biggest waste in rotomolding of large parts – handling, packaging, and freight by putting a Centro machine and Associates in the customer facility so that Centro produced parts can be fed directly to the customers production line. This lean concept would take Centro to the next level of integration with the industry leading OEM customer base.
2000's
After the robust growth and expansion in the 1990's, the 2000's began with 9/11 and the resulting recession. A very familiar pattern continued; rapid sales growth, increase in capacity and then a deep recession which put an additional strain on the business. To emerge from these challenging times Centro applied Lean Manufacturing concepts and introduced Liquid Nylon rotomolding to North America. Investments were also made in technical skills development, as well as diversifying revenue sources using the extra capacity from the downturn. Centro was evolving into an engineering company that rotomolds including a patented process called RotoLoPerm™using three-layers of materials to meet EPA and CARB emission requirements for gasoline fuel tanks. A manufacturing process to deliver the three-layers was also developed and patented. The RotoLoPerm™technology that Centro would license to other rotomolding companies that continues to this day.
During this decade Centro expanded its North Carolina facility and opened 2 more focused factories in Ankeny, IA and East Moline, IL, to meet the growing demand for the technical products.
In 2007, after 17 years with Centro, I became President and in 2008 CEO while Gary remained in the business as Chairman of the Board. During this period the Great Recession hit affecting the overall economy at the same time a 500-year flood devastated our local area delivering an unprecedented one-two punch to our Associates, community and business. Through it all Centro prepared for the future rallying to find a way for the business to improve during this downturn and even found a way to grow.
2010's More Growth, More Expansion
The 2010's was a great decade for Centro's core markets and continued growth and facility expansion was required. A focused factory in Waterloo, IA opened in 2010 and expanded twice after. Beaver Dam, WI opened a 60,000 sq/ft repurposed Green Giant facility to a 3 machine rotomolding operation to increase capacity.
Many of Centro's customers are multinational and they saw great opportunities for expansion in the BRIC (Brazil, Russia, India, and China) countries and encouraged Centro to follow them with Centro's rotomolding capabilities. After years of evaluating BRIC country opportunities Centro decided on Brazil and took the same value proposition to Horizontina, Brazil in 2014 (and expanded in 2020). Centro also opened an engineering office in Banbridge, Northern Ireland.
While Centro is consistently ranked by Plastic News as the largest custom molder in North America, a recognition that has never been the objective, but as Gary Rozek always drove home it is a result of doing a lot of other things very well – the single and strong focus, build products close to use, the long-term relationships with customer, vendors, and Centro Associates. This business is a direct result of the many, many sacrifices, contributions, efforts and results of the 1,000's of Centro Associates through the years. It's also what makes my job the best in the world.
Future
While much has changed at Centro and in the world in those 50 years, the fact remains the rotomolding industry hasn't. Material choice, labor intensity of the process, machine design, and the overall paradigm is much the same as it was when Centro started. Despite that Centro and the industry has prospered. Rotomolding today, even in its similar design, offers value to many products, designs, and applications which makes change difficult.
If we are going to continue to drive our business and industry forward, we need to embrace the many challenges that face Centro and the rotomolding industry. Productivity, automation, manufacturing plant environments, skilled and unskilled labor, Industry 4.0, material choices, and the perception of plastics are just some of the issues that need to be addressed. We are fortunate to have an industry association (Association of Rotational Molders) that can continue to provide a platform for collaboration for the betterment of all.
To close, the challenge for any enduring business is to be true to your roots, culture, and the other elements that define and make a business successful while adapting to an ever-changing business landscape. For Centro we harken back to our field of dreams and founder to appreciate our successes, value our relationships, and strive to be even better tomorrow. On this 50th Anniversary we celebrate the fact that Dick did build it, and they did come – for over 50 years!