Winners of the 2015 Rotational Molding Product Design Competition
FOR IMMEDIATE RELEASE
AKRON, Ohio, July 9, 2015 – Winsell Incorporated today announced the winners of the 2015 Rotational Molding Product Design Competition. The goal of this annual contest is to inspire emerging industrial design talent to create breakthrough consumer products that utilize the latest technologies in rotational molding. Judging criteria includes: originality, process-ability, growth potential, beauty and visual appeal, tool building compatibility, and use of appropriate materials.
First Place was awarded to Rebecca Wereley of the University of Wisconsin-Stout for her design of the Swing Nook. Wereley conceived the Swing Nook as "an outdoor product/playset for children with Autism Spectrum Disorder (ASD) that uses rotomolding manufacturing techniques." Swings are helpful for children with ASD because they provide a place to feel safe and secluded while avoiding over-stimulation. Swings are also used to help with vestibular therapy (sense of balance) and sensory integration. Wereley's entry specified manufacturing process details, including size and shape requirements that suit children of ages 5-12.
Second Place was awarded to Matthew Bruhn of the University of Wisconsin-Stout for his design of the Rotochair. The goal for his design is "to produce an aesthetically-pleasing piece of furniture that employs the rotomolding process and is suitable for indoor/outdoor use." Bruhn specified kiss offs in his design, to keep the chair legs from rotating and provide extra support underneath the seat.
10 Honorable Mentions were awarded to the following students:
Milwaukee Institute of Art and Design (MIAD): Adam Carter, Jacqueline Edwards, Ben Gall, Emelie Troedson
Purdue University: Brian Kalember, Thomas Richardson
University of Wisconsin-Stout: Ryne Anderson, Hans Fritz, Alex Greene, Kelsey Hill
The Rotational Molding Product Design Competition is organized by Winsell Incorporated, with support from 2015 sponsors Avantech, Diversified Mold & Castings, M. Holland and Polimeros USA.
"The rotational molding industry is fueled by the creative ideas of product designers," says Fred Shockey, Chairman and CEO, Winsell Incorporated. "When we cultivate and celebrate emerging talent in the field, we will thrive. The Product Design Competition gives us a glimpse into the future of rotational molding, while also ensuring that future."
# # #
About Winsell Incorporated
Winsell Incorporated, headquartered in Akron, Ohio, is the world's only 100% dedicated supplier of granite-effect colorants for rotational molding applications. Through extensive research and continuous innovation of granite formulations, the company provides trouble-free processing solutions to rotomolders. To learn more, read about the Winsell Granite Difference. Visit Winsell online at www.winsellinc.com or on Facebook.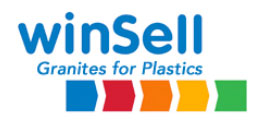 Contact:
Fred Shockey, Chairman and CEO
Winsell Incorporated
330-836-7421
fred@winsellinc.com